Fido
Power to fetch
Retrives discarded cards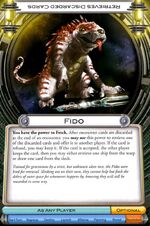 FFG

Wild
As a main player, before cards are selected, you may force your opponent to take the top card of the discard pile and add it to his hand. You then draw a card from the deck.
Super
When several encounter cards are discarded at the end of an encounter, you may fetch any or all of them and offer them, one by one, to the other players in any order you choose.
Fido is an alien that offers revealed and discarded encounter cards to other players. If the card is accepted, Fido takes a card or a ship. If not, Fido keeps the offered card.
| Strengths | Weaknesses |
| --- | --- |
| Can constantly gain resources | Depends on other players' decisions |
Playing Fido is a delicate balance. Offering low attacks or N's often leads to Fido keeping said bad cards. High attacks (and N's, for certain aliens) are likely to be kept, which makes it more likely to earn a reward, but also puts good cards in others' hands.
Against Fido
Edit
Deciding what to keep is generally a guess as to whether one thinks Fido's reward could be better than the offered card.
Fido shines when against aliens such as Anti-Matter or Tripler, as it can offer high cards with impunity. Fido also tends to get more rewards when offering cards to Citadel, Philanthropist, or Reserve.
 
Edition
Power Text
History
FFG
You have the power to Fetch. After encounter cards are discarded at the end of an encounter, you may use this power to retrieve one of the discarded cards and offer it to another player. If the card is refused, you may keep it. If the card is accepted, the other player keeps the card, then you may either retrieve one ship from the warp or draw one card from the deck.
Trained for generations by a strict, but unknown alien race, the Fidos were bred for retrieval. Slinking out on their own, they cannot help but fetch the debris of outer space for whomever happens by, knowing they will still be rewarded in some way.
Technically, Fido cannot draw from the reward deck, as it is not explicitly sated that it earns a reward. But given that it earns a ship from the warp or a card from the deck (the exact same as a reward), drawing from the reward deck would be a perfectly resonable house rule.
Ad blocker interference detected!
Wikia is a free-to-use site that makes money from advertising. We have a modified experience for viewers using ad blockers

Wikia is not accessible if you've made further modifications. Remove the custom ad blocker rule(s) and the page will load as expected.