Ghoul
Power to feast
Rewarded for defeating ships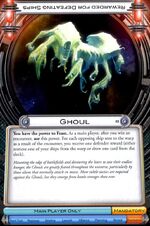 FFG

Wild
After you win an encounter as a main player, you receive one defender reward (a ship retrieved from the warp or a card from the deck) for every player that opposed you in the encounter.
Super
You may use your power as an offensive ally.
Ghoul is an alien that collects rewards for every opposing ship it defeats in encounters.

Ad blocker interference detected!
Wikia is a free-to-use site that makes money from advertising. We have a modified experience for viewers using ad blockers

Wikia is not accessible if you've made further modifications. Remove the custom ad blocker rule(s) and the page will load as expected.