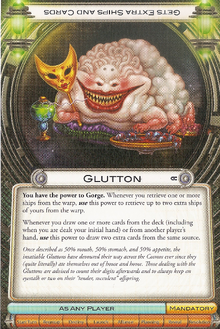 Glutton is an alien introduced in Cosmic Conflict. Whenever the Glutton draws cards (including his starting hand), he draws two extra cards. Whenever he retrieves ships from the warp, he retrieves two extra ships.
Ad blocker interference detected!
Wikia is a free-to-use site that makes money from advertising. We have a modified experience for viewers using ad blockers

Wikia is not accessible if you've made further modifications. Remove the custom ad blocker rule(s) and the page will load as expected.