Magician
Power of prestidigitation
Steals card, confounds opponent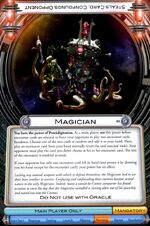 FFG

Wild
When you are a main player, before selecting cards, you may force your opponent to play three encounter cards facedown. Shuffle these cards around on the table. Your opponent chooses one of the facedown cards at random, which he or she then plays, returning the other two to his or her hand. If your opponent has fewer than three encounter cards, he or she discards his or her hand and draws a new one.
Super
When using your power, turn one of your opponent's two cards faceup before choosing. Choose either the faceup or facedown card and take it. Your opponent plays the card you did not choose, as normal.
Magician is an alien that forces the opponent to play two encounter cards instead of one; the Magician adds one of the cards to its hand, while the other card remains to be revealed as the opponent's card during the reveal phase.