Mercenary
Power of bounty hunting
Always rewarded for winning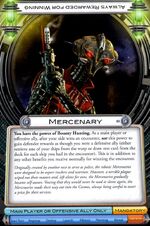 FFG

Wild
When you win an encounter as the defense, you may receive defender rewards as though you were a defensive ally.
Super
When drawing cards for rewards, you may discard any or all of them after looking at the cards.
Mercenary is an alien with the power of Bounty Hunting. It can claim rewards whenever it is on the winning side of an encounter, not just if it is a defensive ally.
The alert lamps on Mercenary's FFG alien sheet are green, but the light they cast on the background of the card is yellow. This is likely a printing error.