Mind
Power of knowledge
Sees other players' hands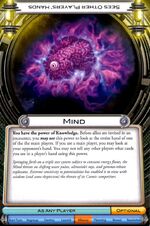 FFG

Wild
Whenever another player draws a card from the deck, you may draw it instead, look at it, and then give it to him or her. You may not share this information with the other players.
Super
When you aren't a main player, using your power allows you to look at the hands of both main players.
Mind is an alien with the ability to look at the entire hand of any other player.