Mirror
Power of reversal
Swaps digits on attack cards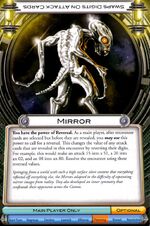 FFG

Wild
As a main player, after encounter cards are revealed, you may change your encounter card into a duplicate of your opponent's encounter card.
Super
When declaring a reverse, you may declare that the reverse will affect only your card or your opponent's card. This declaration is still made before cards are revealed, however.
Mirror is an alien with the ability to reverse the digits of revealed attack cards during an encounter. For example, a 12 would become a 21 when reversed, and a 04 would become a 40.