Remora
Talk

0
192pages on
this wiki
Remora
Power to cling
Gets cards or ships with others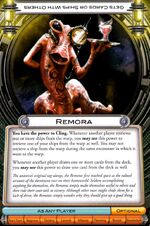 FFG

Wild
When another player uses a super or wild flare, you may draw a card from the deck.
Super
When another player gains a colony, you may either draw a card from the deck or retrieve a ship from the warp. If multiple players gain colonies at once, draw a card or retrieve a ship for each.
Remora is an alien that always gets one ship from the warp anytime someone else does, or a card from the deck whenever another player draws any.
Strategy
Edit
Remora gets comparatively stronger as time goes on. Basically, its power means that it recovers from defeats or card losses more quickly than other aliens, so that it maintains its early strength vis-a-vis its opponents, who tend to shrink over time. Therefore it is in Remora's interest to prolong play.