Reserve
Power to reinforce
Can use attacks as reinforcements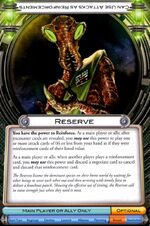 FFG

Wild
Whenever another player discards a reinforcement card (after playing it or not) you may take it and add it to your hand. Reinforcement cards you play are discarded as normal.
Super
You may use your power to play any attack card of 9 or less as a reinforcement.
Reserve is an alien that can use attack cards as if they are reinforcements, provided they are 6 or lower. It can also discard Ns to cancel any other player's reinforcement.