Sorcerer
Power of magic
Can switch played cards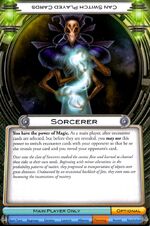 FFG

Wild
When the Sorcerer is not a main player, before cards are selected during an encounter, you may force the main players to trade alien powers with each other. They keep their new powers after the encounter ends. After using this flare, give it to the Sorcerer. If the Sorcerer is not playing, discard this flare to use it.
Super
You may use your power as an ally, switching the main players' encounter cards.
The Sorcerer is an alien with the power of Magic. The Sorcerer can switch his played encounter card with his opponent's played encounter card before they are revealed.