Trader
Power of transference
Trades hands with opponent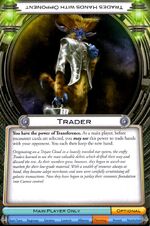 FFG

Wild
As a main player, before alliances are declared, you may draw one card at random from your opponent's hand and add it to your hand. You must then give your opponent one card of your choice (even the card you just drew) in return.
Super
You may use your power to trade hands with any player, not just your opponent.
Trader is an alien that can trade hands with its opponent.