Vulch
Power to salvage
Collects discarded artifacts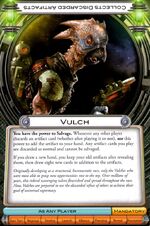 FFG

Wild
If you win an encounter (or make a deal) as a main player, your opponent gives you his hand one card at a time. Discard each card until you get one you want. You put that card in your hand and your opponent keeps what's left, if any.
Super
You may use your power to collect any discarded flares as well as artifacts.
Vulch is an alien that collects other players' discarded artifacts. When it draws a new hand, it keeps its old artifacts in addition to getting a full new hand.