Will
Power of choice
Not controlled by destiny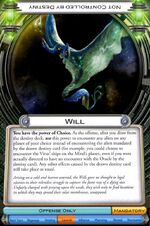 FFG

Wild
As the offense, when you draw a player's color from the destiny deck, you may have an encounter with that player in any system, not just his or her home system.
Super
You may look at one other player's hand before deciding who to encounter.
Will is an alien that can choose who to attack instead of using the destiny deck.
Strategy
Edit
The real power of the Will is not obvious at first glance. But he has the ability to attack (for instance) the Mind on the Oracle's planet. This means he can pick and choose who has the weakest hand, or weakest defenses. He can pick off bases from a player who has too many - an ability unique to him.
When the Will is in a game, often the game is prolonged, because it is simply more difficult to get to 5 colonies, with the Will targeting and knocking out your ships on other systems.
The Will can be crippled with a weak hand - one way to mitigate this is by using negotiates early in the game to beef up his hand size via compensation.
Ad blocker interference detected!
Wikia is a free-to-use site that makes money from advertising. We have a modified experience for viewers using ad blockers

Wikia is not accessible if you've made further modifications. Remove the custom ad blocker rule(s) and the page will load as expected.